Where You're Born Matters!
Whether a woman chooses to start breastfeeding and how long she continues is closely tied to the patient-care practices she and her infant experience during her newborn's first days. Additionally, breastfeeding disparities exist among racial and ethnic groups, impacting the healthy start that every mother-baby dyad deserves. 
The Ten Steps to Successful Breastfeeding, developed by the World Health Organization and the United Nations Children's Fund, are recognized as lactation standards in care1 that positively impact breastfeeding outcomes. Texas Ten Step designated facilities are committed to these standards.
About the Texas Ten Step Program
The Texas Ten Step (TTS) program is a designation provided by Health and Human Services that recognizes birthing facilities that implement policies and practices aligned with the World Health Organization and UNICEF's Ten Steps to Successful Breastfeeding.  Established in 1999 to improve maternity care in birthing facilities, the Texas Ten Step program provides facilities with a framework and resources to improve health outcomes for breastfeeding. Through incremental adoption of these evidence-based practices, facilities make a commitment to improving maternity practices that support successful breastfeeding. The designation encourages continued progress toward the gold-standard designation of the Baby-Friendly Hospital Initiative (BFHI).  
The TTS designation is voluntary and based on self-reporting. Designations are granted for a two-year period and require no application or maintenance fee. Learn more about the differences between the TTS designation and the BFHI designation on our Baby-Friendly Hospital Initiative page.
Policies Shape Outcomes
Policies and practices that delay or interrupt the first breastfeed, that cause separation of babies and mothers or that result in non-medical formula supplementation of breastfed babies make it difficult for mothers and babies to successfully breastfeed. 
A multi-center, randomized control study found that babies born in facilities whose policies promoted exclusive breastfeeding were significantly more likely to be exclusively breastfed at six months2. Other studies confirm that evidence-based maternity practices, including "Baby-Friendly" hospital standards can help to improve exclusive breastfeeding rates, even in communities where historically poor breastfeeding rates have been seen.3
Data indicates that Texas Ten Step facilities have higher exclusive breastfeeding rates at discharge across race and ethnicity than non-Texas Ten Step hospitals. This effect is even more pronounced in Texas Baby-Friendly Hospitals and is consistent with national data evaluation of the Ten Step implementation.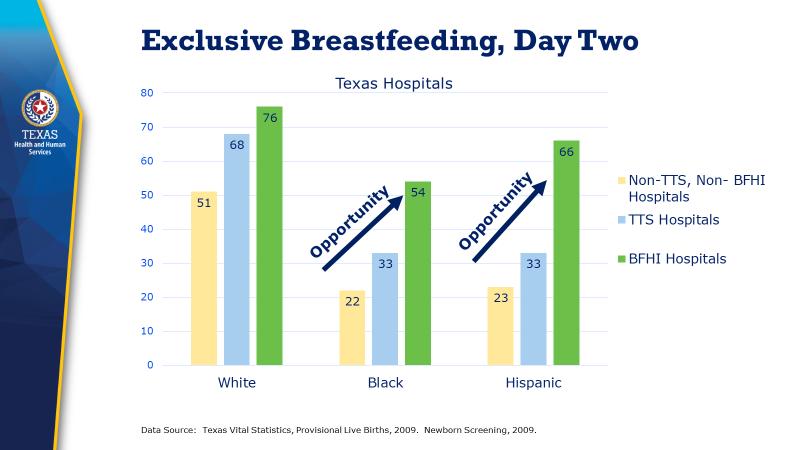 When facilities implement the Ten Steps, health outcomes improve for all families.
The Importance of Patient Satisfaction
Many women first enter the healthcare system during pregnancy and birth and most play a role as the primary healthcare decision maker4 for their families.  As consumers of healthcare services, women may look to their friends, family, social media and healthcare providers5 to help guide their choice.  Evidence supports that most women plan to initiate breastfeeding.  Your facilities' ability to support a mother's intention to successfully breastfeed may help you stand apart from the rest.  
Even if mothers are unaware that "breastfeeding best practices" exist, they learn about these standards online and expect them to be in place at your birthing facility. Birthing facilities that implement breastfeeding best practices are well positioned to impact relationships with mothers during this critical time. If mother's needs are met, they will value the health care relationship and are likely to return for other services.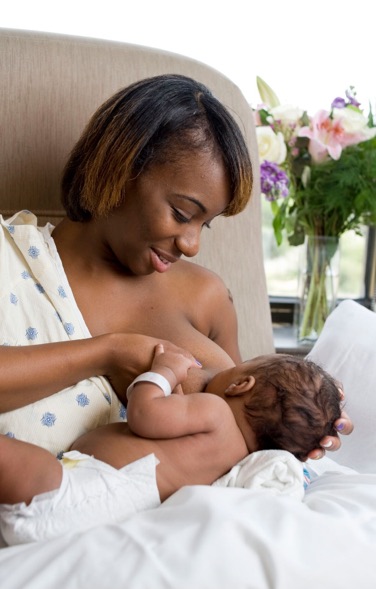 The Burden of Suboptimal Breastfeeding on Families, Communities, and Healthcare Costs
A cost analysis conducted by Harvard Medical School researchers calculated that if 90 percent of U.S. women breastfed exclusively for the first six months, up to 17 billion dollars a year could be saved. The analysis includes direct and indirect costs of medical care for pediatric and maternal illness and costs of missed work time for mothers6.
According to the CDC, the most effective public health interventions are those that change the context for health so that individuals' default choices are more likely to be healthy ones7. When organizational policies, practices and environments are tailored to support breastfeeding, a significant health impact can be made. This is particularly true for individuals who are at higher risk for poor health outcomes.
Bottom-line Bonuses for Birthing Facilities:
Increased patient satisfaction and safety.
Enhanced reputation for quality and patient-centered care.